WE SPECIALIZE IN RUSSIAN BLUE CATS AND KITTENS OF HIGH QUALITY.
Our motivation for breeding Russian Blue cats is purely personal, since we are passionate about the breed. Russian Blue Kennel is a small cattery, averaging only a few litters a year. All of our Russian Blue Cats kittens are born and nurtured in our home, right under our feet, so they are handled and exposed to a normal household environment from the very beginning.
Our focus is on improving the health, appearance, and temperament of the Russian Blue breed. Ideally, the eyes would be either round or teardrop shaped, and they would have a gentle, trusting expression. Every single one of the kittens born at Russian Blue Kennel has inherited the same adorable eye color from their mother. Additionally, a healthy nose size is important for proper breathing. A Russian Blue kitten's coat will always be gorgeous and healthy, whether you want to exhibit it or not.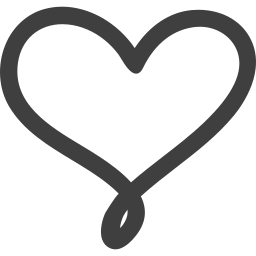 Excellent breeding with affection
Our gorgeous Russian Blue Cats are members of our family, and we love and care for them so much that we've dedicated our life to breeding outstanding Russian Blue Cats for cat lovers throughout the United States and world.
Excellent quality Russian Blue Cat for sale 
We believe that our Russian Blue Cats and Kittens are the ideal companions for any cats enthusiast who desires to spend the next decade of their life surrounded by devotion, love, fun, and affection, since these are the qualities that our Russian Blue Kittens provide to any family.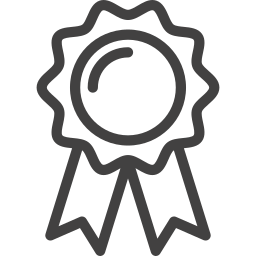 Our Russian Blue Cats' health is guaranteed and cared for for life.
not "Here's your new pal," but something similar. Since we have a veterinarian on staff, you can rest certain that you will always have access to expert advice on your pet's health.
Our cattery is founded on the concept that the cats' needs, interests, and well-being take precedence above those of the breeder. He or she should work to provide them the same kind of happy existence they'd enjoy in the wild. They need to have their basic needs met, be free to do as they wish with their time, and have social interaction with like-minded others.
OUR NEW ARRIVAL RUSSIAN BLUE CATS
Every single one of our Russian Blue Cats Kittens is born and reared in our house, and we only sell them to homes who have both an indoor and an outdoor place for them to play in. Our objective is to create happy, social cats that live up to the expectations of their breed. Please get in contact with us if you are interested in adopting a Russian Blue Cats Kittens. We have many available. You may expect to hear from us within the next 24 hours.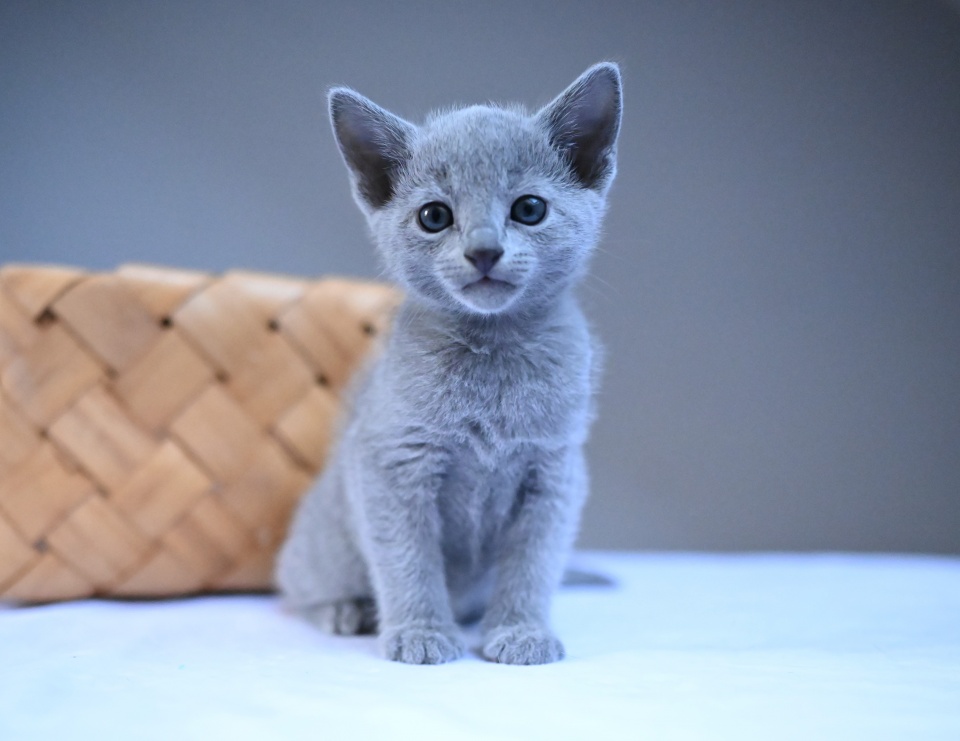 ♥ MEET TYLAR ♥
Tylar is a Amazing Russian Blue Kitten. He is a Sky Blue with a charming catch nose and eye.
♥ ADOTP TYLAR NOW ♥
♥ MEET HAPPI ♥
Happi is a wonderful Russian Blue cat. Her coat is sky-gray, and her eyes are green. Happi has a great personality.
♥ ADOPT HAPPI NOW ♥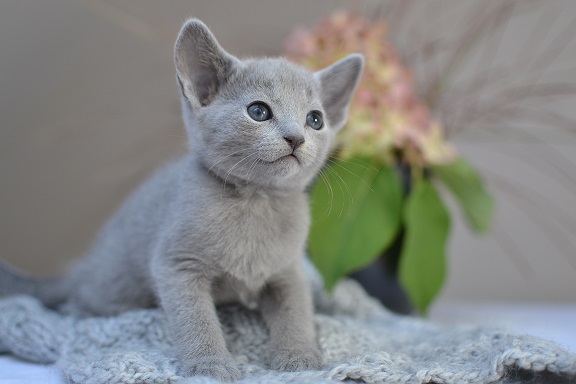 ♥ MEET JOY ♥
Joy is a really nice little girl. You will really like how happy she is. Joy will bring a lot of happiness to your home for a long time.
♥ ADOPT JOY NOW ♥
The Best by Far
Hi Russian Blue Kennel- Bandit is getting along great with Jake. This picture from their first day together says it all. He loves raw meat for breakfast and Maine Coon bickies. Now, he's getting close to Jake in his bed. We just love him.
Marilyn Harrison
Amazing Experience
Hello, Russian Blue Kennel! I wanted to say hello and tell you that Smudge is the happiest Russian blue cat I've ever seen. He is now a handsome boy who acts like a very naughty boy. We love him so much that we can't picture our lives without him. He has a lot of personality and has made our home better in every way.
Brenda Wolfe
Lovely Support
Thank you so much, Elan, said Russian Blue Kennel. We're so lucky to have found you as a breeder. There is no doubt that your love and good qualities show in your kittens. Elan is such a happy and spunky little boy. He makes my two-year-old tired. I love it! We're looking forward to making lots of happy memories with our new family member.
Mike Ling
Outstanding Delivery Experience
Russian Blue Kennel Many thanks, Regan. From the minute she arrived home, she was affectionate and not at all aloof. Regan has been extremely pleasant and accommodating to everyone who has visited her home. I am certain that you are a major reason why she is so loving. I can tell you've spent a lot of time with her because when I brush her and clean her eyes, she is quite peaceful. She purrs herself. It's fantastic to know that if I ever have a question, you will assist me. Thank you very much for making the process so simple and for providing me with such a fun cat. Thanks again!
Marry Bennie
Our Russian Blue Cats and Kittens Are Eager To Make Your Life More Pawsome As Soon As Possible.
Are you ready to do the same?
Having a Russian Blue Cats as a Pet
In their own way, Russian Blue Cats are also loyal, fun, and make great pets.
Russian Blue Cats are perfectly happy in their own space, so you don't have to worry about leaving them at home when you go to work or run errands. They like to be petted, but they don't ask their owners to do it all the time.
Russian blue cats don't like to eat all their food at once. Instead, they like to play or do other things.
WE SHARE YOUR JOURNEY OF A LIFETIME WITH
YOUR RUSSIAN BLUE CATS
Instead of saying good bye, Russian Blue Kennel family assists your parenting all the way.
Lifetime health guarantee
Your Russian Blue Cats kittens gets a very important head start on a long and healthy life, and a contract guarantees that it won't get any genetic diseases that can't be cured and make it sick.
Lifetime free breeders' help
As a responsible breeder, we offer immediate and expert support 16 hours a day for any health, behavior, or practical problems your Russian Blue Kennel might have, no matter how old it is.

Lifetime free vet consultancy
At Russian Blue Kennel, we have a qualified veterinarian on staff. Russian Blue Kennel is prepared to answer any health-related issues in depth and professionally.
Frequently Asked Questions
These are some frequently asked questions by other Russian Blue cat lovers like you.
Best Hypoallergenic Cat Breeds for People With Allergies